Hot Water Systems:

Gas Hot Water System Installation & Repair
A gas hot water system is one of the most common ways we heat our water at home.
An easy solution for hot water when you need it, gas water heaters work quickly and efficiently to provide enough water for your family, no matter how big it is.
Your Gas Hot Water System
Your Gas Hot Water System
There are several benefits to having a gas hot water system installed in your house. One of the main benefits of gas hot water systems at home is the speed with which they heat water. Our experts find that on average, our gas heaters are twice as fast as their electric equivalents.
Another added benefit is that natural gas is currently cheaper than electric on most areas, so you have the opportunity to make some important savings on your energy bills each month. Though there is a slightly higher upfront cost with gas heaters, the savings you make each month eventually will make up for it.
How does a Gas Hot Water System Work?
Gas water heaters typically consist of:
Combustion area and gas burner
Thermostat, which is also connected to the gas valve, working in a feedback loop
Insulation materials
Main tube
Cold water pipe
Hot water pipe
Temperature and pressure relief sections.
Once the flame is ignited, the water closest to the flame will become hot and move up the tank, with cold water replacing it at the bottom.
The heating process will take some time, but once the water is hot it is fed out of the water heater and to your hot water tap or shower.
Cold water is then fed into the tank, to replace what has just been taken out. Once all of your water is hot enough, the tank will switch off and store the hot water – ready for use.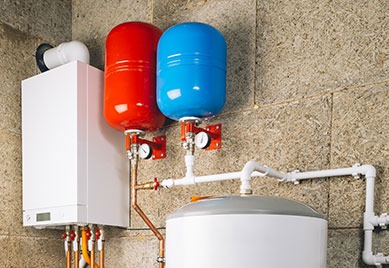 How to Fix Gas Hot Water Heater Parts
Should you have any issues with your gas hot water heater, we don't recommend you try to fix it yourself.
Gas can be a huge hazard within the home if it's not installed and maintained by professionals, so we recommend giving us a call any time should you have any concerns.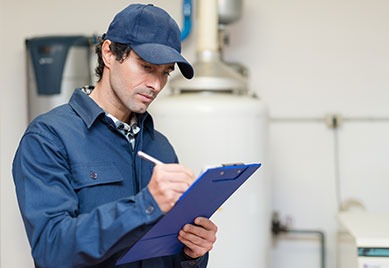 Saying that, our RPG Plumbing experts have outlined some safe, small tips that you can perform yourself to check everything is working within your heater. Here are some starting points to fix your gas hot water heater parts:
Check that it is turned on
Check if the pilot light is on
Check if the burner is on
Check if the burner ignites automatically
Check for leaking gas smells
Check the temperature of the water.
As we've talked about above, trying to fix the problem yourself can be a very serious health risk for yourself and those around you, that's why you should always call us just to be sure.
Considering the dangers natural gas can have, we are active members of the Master Plumbers' Association of Queensland and the Queensland Gas Association to ensure our customers that our work is accredited, professional and the best in the industry.
Get In Touch Today
Give us a call today for your gas hot water system installation or maintenance needs!
We're happy to explain how we can fix gas hot water heater systems.