Plumber Brisbane | Gas Fitter Brisbane
RPG Plumbing are the experts to call when you need a Brisbane plumber that values quality service and excellent value for money.
We understand that you work hard to live in a home that's beautiful, welcoming and filled with all the modern conveniences that the 21st century can provide. That's why when something goes wrong with your plumbing or gas infrastructure, we strive to give you back the quality of life that you deserve.
When the worst happens, you need a reliable Brisbane plumber with the expertise to resolve the issue and prevent long term damage to your home. From the moment you call to the completion of our work, we'll be right there beside you, working to provide the best possible outcomes that we can.
Of course, we're not just here to assist in an emergency.
We can also help with the futureproofing of your home against unforeseen disaster. Whether it's an installation on a preexisting structure or a new home build-out, our professional staff specialize in providing services that stand up to the brutal test of time.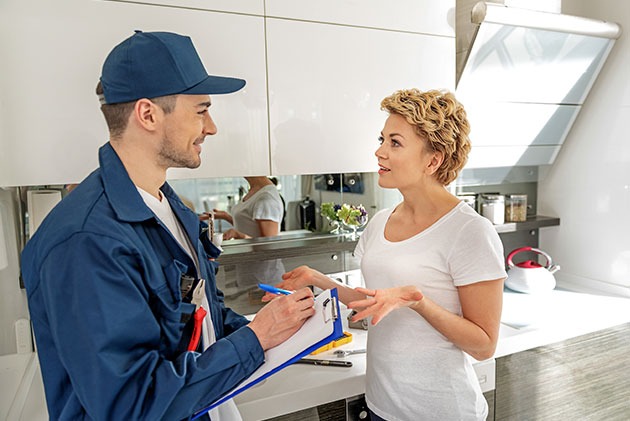 We've worked tirelessly over the years to make RPG Plumbing and Gas Fitting your one-stop shop for all things water and gas.
Call today and find out how superb service and decades of combined experience can make such a difference!
RPG Plumbing:

Built with a background in the Brisbane region
Being a Brisbane plumber means having a deeper understanding of the place in which we do business every single day. We're born and bred Queenslanders, and our background allows us to provide a better quality of service to our customers.
We understand the unique climate conditions your plumbing may be placed under throughout the year. Scorching hot summers can put huge pressure on your plumbing system to perform, both in the consistent drawing of water and the maintaining of suitable temperatures as the mercury rises.
Working with you, we'll tailor a service that plans for all eventualities and ensures that your plumbing stands up to anything our unique climate can throw at it.
If your current plumber and gas fitter isn't planning for the future of your home or business, it's time to make the switch to the Brisbane plumber who cares for its customers, RPG Plumbing.
A Brisbane plumber who understands your needs
It's easy to take something as simple as running water for granted.
As we turn on a tap or fill the washing machine, we sometimes forget how crucial a steady stream of water is to every part of our lives.
While the age-old motto of plumbing may be "out of sight out of mind", when something does go wrong it's important to act quickly and decisively. From the moment you call our helpful and friendly staff at RPG Plumbing, you can rest assured that we'll treat you as a person, not a client number.
Our service guarantee is threefold, we repair, we install and most importantly we safeguard. Our team of skilled Brisbane plumbers work daily on all aspects of domestic plumbing. We fix leaky taps and toilets swiftly, preventing monstrous water bills from piling up.
We repair and replace burst pipes with affordability always at the front of our minds. We service dozens of hot water systems every week, ensuring that every one of our clients can have a hot shower to start the day.
Need new installations, constructions or renovations?
That's no trouble at all for our skilled team of Brisbane plumbers.
Blocked drains?
We clean them out quickly and thoroughly and can even provide our own excavation services on site.
There are many reasons why you might need a Brisbane plumber, but whatever your reason for calling, we're always ready to provide our expertise!
The trusted name for gas fitting in Brisbane
We're so much more than just an experienced Brisbane plumber.
Our wide range of gas fitting services in Brisbane can help solve all your gas-related needs. From installing new appliances and fitting new hot water systems, to repairs, servicing and routine maintenance.
Gas and water keep Brisbane homes running and their occupants happy and comfortable year-round, and to keep everything working as it should be, you need the best gas fitting in Brisbane.
Our Brisbane plumbers are highly skilled and experienced in all manner of gas fitting services. Whether you're making amendments to your existing home or building a brand new one from scratch, we have the know-how to get the job done right.
Your emergency is our priority
When you come home to a water or gas-related disaster, we understand that time is of the essence. Emergency circumstances need the quick and responsive services of a qualified and experienced Brisbane plumber. That's why at RPG Plumbing, we act fast and solve problems even faster. We're available 24 hours a day to fix blocked drains and toilets, mend broken pipes, stop gas leaks and help maintain the safety and security of your home.
We're the reliable plumber and gas fitter you need in the event of an emergency.
Commercial and Industrial? No problem!
By no means are our services limited to domestic jobs! If you need a Brisbane plumber for your commercial or industrial property, look no further. We have the tools, the talent and the manpower to ensure that all of your commercial and industrial plumbing and gas fitting needs are met.
Whether you're looking for new installations or routine maintenance and repairs for your industrial site, we rise to any challenge that comes our way!
Why choose us as your Brisbane plumber of choice?
We understand just how important it is to be able to rely on your plumber and gas fitter.
That's why we build our reputation on not only our expertise but the professional rapport we establish with our customers. Working without rest every day, we ensure that the trust you place in us is well earned.
With decades of experience, we strive for excellence in every job we carry out. We're fully certified, qualified and insured for your peace of mind and our work ethic is driven by customer service. You won't find another Brisbane plumber who does more to put you first.
We're available to you 24 hours a day, 7 days a week and our services are widely recommended throughout the Brisbane region.
Want to know more? Get in touch with us today to see what our Brisbane plumbers can do for your home or business.