Excavation Services:

Excavation Contractors You Can Trust
If you have a large or complex plumbing or even construction job, it is likely you will need excavation contractors.
When it comes to excavation services you don't want to hire just anyone. You will want to hire excavation contractors you can trust, such as RPG Plumbing.
We are highly experienced plumbers and gas fitters, but also excavation contractors with a strong track record of delivering quality and reliable excavation services.
When are Excavation Services Necessary
When are Excavation Services Necessary?
When a new house or commercial property is being built, or undergoing significant renovation, new pipes need to be laid. The pipes will lead water from the mains supply to your property and will also carry effluence from the property and back out to the mains sewer.
The laying of underground pipes for gas installations will also require digging trenches for pipelines.
For the most part, unclogging blocked drains can be done without excavating. However if you are experiencing a major blockage that simply won't flush away or if your pipes are severely damaged or degraded, then excavation contractors will need to be called in to clear the area for the plumbers to fix the problem.
How does it work?
After contacting RPG Plumbing for your excavation services, we will conduct a thorough assessment of the extent of excavation required, the location, any impacts on your property or neighbours, and advise if any local council approval is required. The technicians will have identified the area that requires excavation and the depth that should be reached for the plumbers to gain access to the pipes. The machine operator then digs up the soil and exposes the pipes or area for pipe placement, so that the plumbers can then get to work.
RPG Plumbing of course will be able to carry out your plumbing and gas fitting services for you, in addition to the excavation services.
Excavation vs. Trenchless Technology
Trenchless technology comes with several benefits including the fact that it is less intrusive, since only two small pits are dug at both ends of the damaged pipe and most of the landscaping stays intact. Since no excavation is done, the cost will be reduced and the job completed faster.
However, sometimes trenchless technology can't fully address your plumbing requirements or repairs. Our technicians consider all options and will discuss our proposed solutions with you in detail.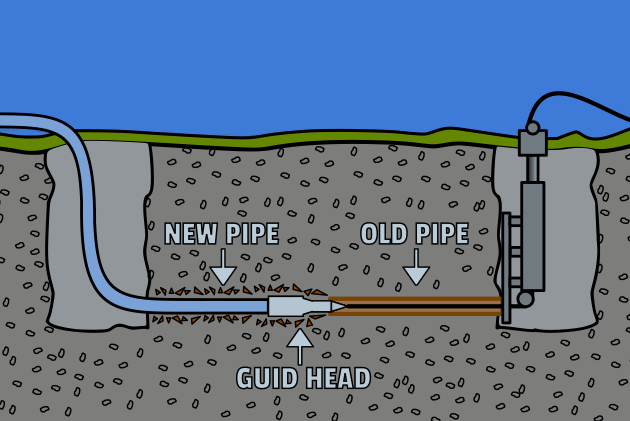 How We Serve You?
At RPG Plumbing, our key concern is your safety and comfort.
That is why all our technicians are fully trained and experienced in handling earth moving equipment ensuring excavation is done at the right place, right depth and by an experienced machine operator.
We have the right equipment for the job and our excavation contractors are friendly, clean up after themselves and will leave the excavated area as tidy as possible.
We are members of the Master Plumbers Association Queensland and the Queensland Gas Association, licensed, insured and possess the expertise to carry out excavation services throughout the North Brisbane area.
If you are looking for excavation contractors you can trust, look no further than RPG Plumbing.